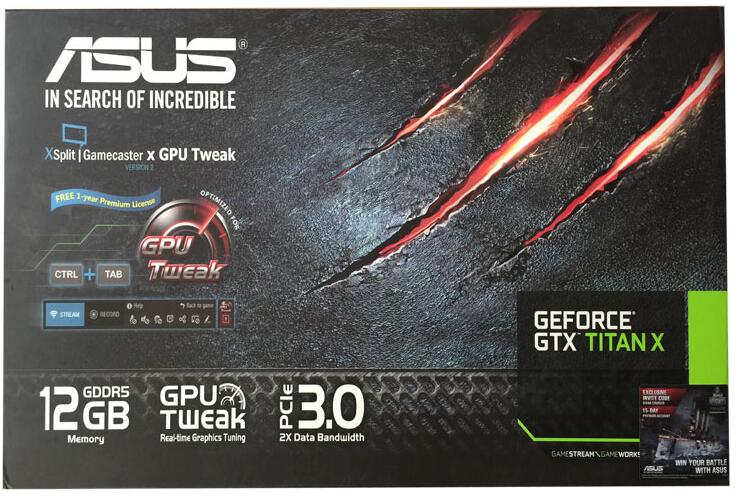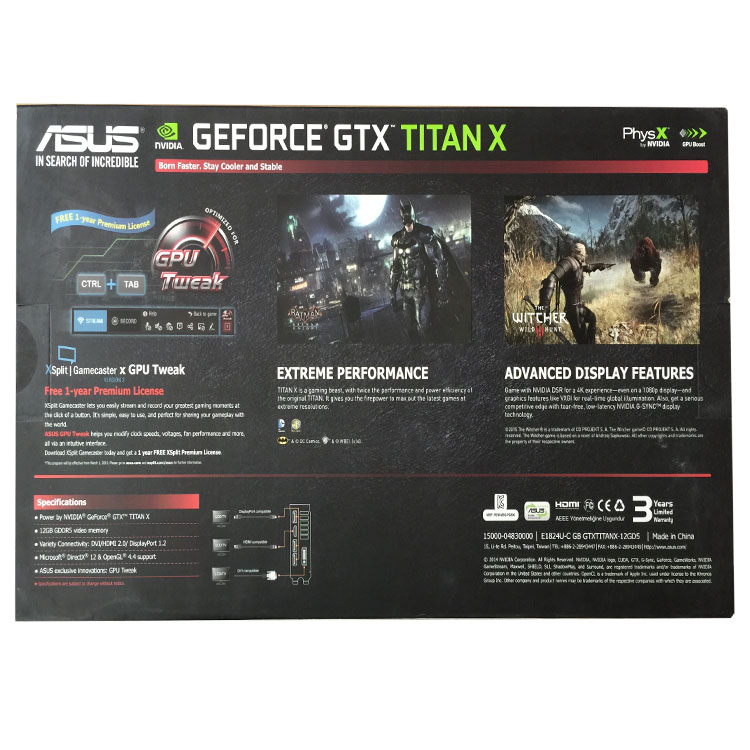 GEFORCE TITAN X 12288MB GDDR5 PCI-EXPRESS GRAPHICS CARD (GTXTITANX-12GD5)
Virtual Reality is upon us with the likes of Oculus Rift already available and HTC Vive coming very soon. Valve have released a SteamVR benchmark which will test your system for VR Readiness, we advice customers to run this benchmark as the minimum specification to be VR Ready is a GTX 970 from camp NVIDIA. A GeForce 980Ti scores 10-11 and a TitanX scores 11 in the SteamVR benchmark which is the highest score possible. So if you want the best possible VR performance than GTX 980Ti or Titan X is the answer for truly the best VR gaming experience. VR is a game changer for games such as Elite Dangerous, Portal 3, Flight simulator, Doom, Project cars and who knows the elusive Half Life 3 may make an appearance from Valve as being VR optimised, lets keep our fingers crossed.
The new ASUS GTXTITANX-12GD5 graphics card ships with 12GB GDDR5. To fully harness the power of the GPU technology, GTXTITANX-12GD5 comes with ASUS exclusive GPU Tweak utility and Free 1-year Premium License (USD 99.95 /yr) of customized GPU Tweak x XSplit Gamecaster utility. It lets you easily tweak, stream and record your greatest gaming moments at the click of a button. ASUS Geforce® GTXTITANX-12GD5 offers gamers improved tuning access, and ultra-smooth gaming experience through NVIDIA® Adaptive VSync and G-SYNC technology. It also supports NVIDIA® 3D Vision® surround™ on hundreds of PC games with a single card. Moreover, the card uses PCI Express 3.0 as the standard interface, doubling the data bandwidth of PCI Express 2.0.
Get VR Ready with GeForce® GTX.
GeForce® GTX graphics cards provide a powerful next-generation platform for the ultimate immersive virtual reality experience. Immersive VR requires seven times the graphics processing power of traditional 3D apps and games. NVIDIA's unique set of features-such as multi-res shading-mean you get the right level of performance, image quality, and latency to ensure your VR experience is nothing short of amazing.
Specification:
- GeForce Titan X
- GPU: GeForce Titan X
- Core Base Clock: 1000MHz
- Core Boost Clock: 1075MHz
- Memory Clock: 7010MHz
- Memory Size: 12288MB GDDR5
- Bus Type: PCI Express 3.0
- Memory Bus: 384-bit
- CUDA Cores: 3072
- DirectX 12: Yes
- DVI Port: 1x Dual-Link DVI, 3x DisplayPort & 1x HDMI
- VR Ready
- DisplayPort: Yes
- HDCP: Yes
- HDMI: Yes
- Power: 1x 6-Pin & 1x 8-Pin
- 600W PSU Required
- 250W TDP
- Dimensions: L=282mm, W=110mm, H=43mm
- Warranty: 3year