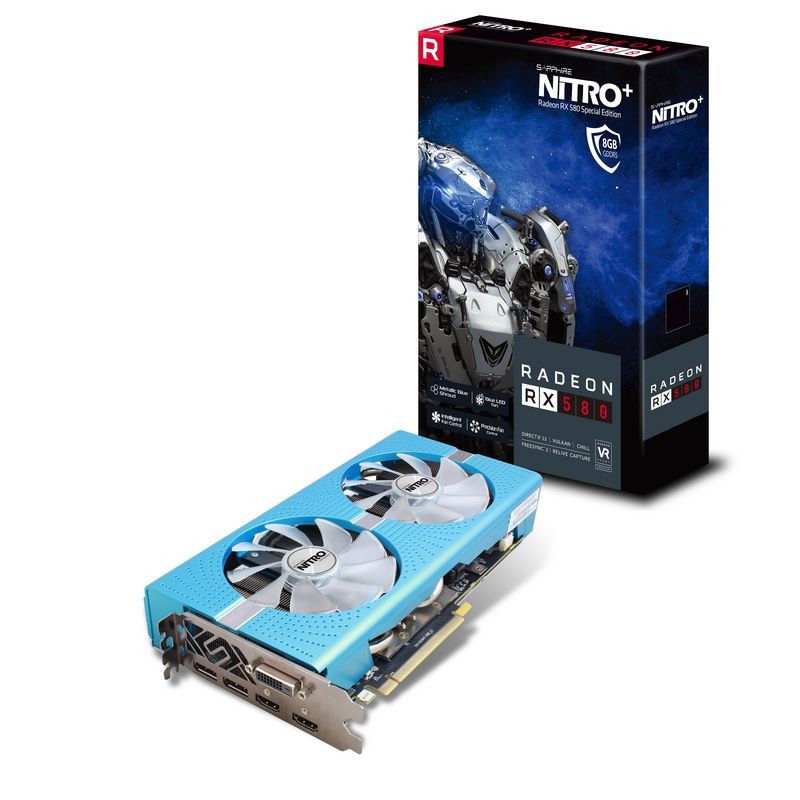 Product description * (manufacturer information):
MPN: 11265-21-20G
EAN: 4895106283077
Fan check
From time to time, a graphics card needs maintenance and in most cases it's the fan that calls for some love and affection here. However, it can be frustrating to have to send in the entire graphics card while waiting for approval to share.
NITRO Quick Connect
If there is a problem with the fans, then you do not have to return the whole card - SAPPHIRE or our trading partners will send you a replacement fan directly! All SAPPHIRE NITRO + Radeon RX480 and RX470 fans use the Quick Connect system. That means they are easy to remove, clean and replace as they are held in place by just one screw.
NITRO Free Flow
The graphics card is more than the other components; the beating heart of your gaming system. Accordingly, their price should be reflected in their appearance. With an attractive design and additional RGB LEDs, each card is almost a work of art. It is even possible to change the colors of the LEDs to your own taste. This can be done with SAPPHIRE's award-winning TriXX overclocking tool (version 3.0) or the red button on the back of the SAPPHIRE NITRO Gaming Series graphics card. There are 5 different modes available, including fan speed, PCB temperature or rainbow. If it bothers you, you can switch off the LEDs completely.
NITRO boost
The new NITRO boost switch boosts the boost clock rate and power limit for higher performance, unlocking the full gaming performance of the card.
You want to overclock or get the highest performance out of your card? SAPPHIRE NITRO graphics cards have an 8pin power connector which enables NITRO Boost.
Dual-X cooling
SAPPHIRE's acclaimed Dual-X cooling system consists of two massive yet quiet fans and a state-of-the-art heatsink design. The new shape of our 95mm fan blades mean higher airflow and higher than average heatsink coverage, and at a lower noise level compared to the standard coolers.
The fans are also double-ball bearing, resulting in an 85% increase in runtime over closed bearings.
VR Friendly
The SAPPHIRE NITRO Gaming Series graphics cards are equipped with two HDMI ports and are therefore specially designed for virtual reality. It is therefore possible to connect both its HD monitor and its cutting-edge VR headset at the same time. The ports are up to date HDMI 2.0b ports with 18Gbps bandwidth, up to 32 audio channels and support for 4K 50/60 resolutions such as. 2160p. At the same time, they are backwards compatible with older HDMI specifications.
-----------
Technical details: *
(all information without guarantee. Errors excepted.)
processor
Graphics processor family AMD
GPU Radeon RX 580
Maximum resolution 5120 x 2880 pixels
Processor clock frequency 1257 MHz
Processor boost clock speed 1430 MHz
Maximum displays per video card 5
Storage
Separate graphics adapter memory 8 GB
Graphics adapter memory type GDDR5
Width of the memory interface 256 bits
Memory clock frequency 2100 MHz
Memory bandwidth (max.) 269 GB / s
Connections and interfaces
Interface PCI Express x16 3.0
Number of HDMI connections 2
Number of DVI-D connections 1
Number of DisplayPort connections 2
HDMI version 2.0b
Display Connection version 1.4
power
DirectX version 12.0
Shader Model Version 5.0
OpenGL version 4.5
OpenCL Version 2.0
AMD FreeSync Yes
HD3D technology Yes
design
cooling active
Number of fans 2 fans
Number of slots 2.2
Product Blue
energy
Min. System power supply 500 W
Power consumption (typical) 250 W
Additional power connectors 1x 6-pin, 1x 8-pin
Weight & dimensions
Depth 260 mm
Height 43 mm
Width 135 mm